11 Years Ago now while in college I was studying a Degree in Health Promotion and Physical Activity. I was going to the gym 5 times a week, leaving the gym to have a post-workout snickers bar, before going back into another lecture to study about the Biochemical makeup of sugar.
I had gained weight easily all my life, always played a ton of sport but was always conscious of my weight – in the dressing room, at school, and around friends.
I was prone to binge eating, secret eating and still to this day have a crazy sweet tooth.
I was 17 and in college studying all about Anatomy, Health and the benefits of physical fitness, so I decided to join the gym.
Looking back I hadn't got a clue what I was doing or what was the best way to work toward my goal?
"No idea?! I'll just copy what those other guys are doing".
I needed guidance. If I had known then what I know now, I'd have achieved my goals SO much quicker.
One of the most enjoyable parts of my job is helping people understand what they should be doing and why.
Think about it – You want help with your accounts – You go to an accountant. Sick? You go to a doctor. You want to learn guitar? You get lessons. Your car is playing up – YOU GO TO THE MECHANIC.
Too many people try and go it alone, or seek help from the wrong people.
Why not take a shortcut to success and find a MENTOR or COACH.
KNOWLEDGE IS FREEDOM!
Most people who join a gym, exercise regularly, start working out or take up some sort of activity like running, swimming or cycling generally are looking to LOSE WEIGHT, TONE UP and FEEL BETTER….
Every day we get asked questions THAT I USED TO ASK MYSELF 11 YEARS AGO and all of them go along the same lines…
…. Should I take a protein shake after my work out?
…Should I eat carbs after 8pm?
.. Should I do my workouts fasted(not eat) in the morning?
..white or brown everything?
….my nutrition is good but I just cant lose weight?
I used to get bogged down with all this. There is so much information out there and sometimes people get so confused by all of this.
LETS TAKE ONE OF THEE MOST COMMON QUESTIONS FROM ABOVE FOR A MOMENT
A protein shake is helpful if:
You struggle to get overall protein into your Diet
Your next meal after a workout is not close at hand
You want to use it as a substitution to a snack every now and again
BUT>>> in the majority of cases the people who come to me need to work on the low hanging fruit first …
If your goal is weight loss, getting lean and more toned then a protein shake on its own is not going to do JACK SH*T FOR YOU IF THE BASICS ARE NOT NAILED DOWN!
IF LOSING WEIGHT, TONING UP AND GETTING LEAN WAS THAT EASY WE WOULD ALL BE WALKING AROUND SUPPING AWAY AT A PROTEIN SHAKE ALL DAY!!
THIS GUY MUST HAVE MISSED THE MEMO
Basically, where most go wrong is they fail to nail down the basics that give you the biggest bang for your BUCK
AND
Instead look at the trivial details and quick fixes that for 90% of people I see daily just don't need to be worrying about
Why does everyone want to look past the basics and instead pick the quick fixes and small details?
Because its not sexy, its going to take time, they lack patience and they like to tell themselves that its something really magical or massive why they haven't been able to do it yet!!
8 STEPS TO SUCCESS
Assessment/Tracking of Progress
Three Main Meals
Portion Sizes
Snacking
Water+Sleep
Weekends (FRI-SUNDAY)
Overall Activity Levels
Consistency
1.Assess and Measure 
Before starting any exercise or nutrition plan(anything where you have a goal) you should be taking some starting measurements.
HOW TO MEASURE FAT LOSS PROGRESS
Remember before starting you should
1. Take a start weight
2.Take inch's
3.Take pictures
4.Track and Diary exercise and food Intake
How else will you know if it is working or not?
If you're not assessing your just guessing
Once you have all the above done then its time to track and record what you are doing for the first few weeks.
Simple tools like a food diary and exercise journal can be great.
They allow us to make adjustments if things are not working or if progress is been achieved, give us insight into what is or isn't working.
Assessing and Measuring is a key step that most people skip before starting anything. Usually 2/3 weeks or even a month in if they have nothing to go off they simply can only guess whether they have made progress.
So often its not until someone looks back and puts before and after pictures side by side do they see the progress they have achieved.
2.  THREE MAIN MEALS DAILY
Three main meals daily is what you should be striving for.
NOTE:
Its never a lack of food why your not losing weight no matter what you like to tell yourself. If we were all stuck on a desert Island with only 500 calories worth of food to eat , we are all losing weight. There are no special snowflakes out there.
People often complain
"I don't eat but I still cant lose weight"
BUT in most cases its just what they do choose to eat is high in calories and low in volume
Quantity vs Quality
Each meal should be what you can fit on ONE PLATE
Half the plate Veggies
1/4 the plate Protein(fish,steak,chicken, mince, eggs etc)
1/4 the plate Carbs (rice/pasta/potatoes , quinoa, cous cous etc)
3. PORTION SIZES
Portion sizes are where we have gone crazy over the last decade.
Simple but effective way to measure portions is using your OWN HAND
When we do this it relates to the body size of the person measuring
A larger man will have a larger hand therefore a larger portion
than a smaller man who has a smaller hand will eat slightly smaller portions
After all portion sizes should be specific to you and your body
Protein= 1 palm size portion for females+ 2 palm size portions for men
Carbs= 1 fist size portion
Fats= 1 thumb size portion
Veggies= 2 cupped handfuls
4.SNACKING
For me this is where the majority go drastically wrong. We are in a society where snacks are highly processed, high in calories and convenient.
We snack on protein bars, scones, lattes, buns, crisps, bars, deli food etc….
SNACKS SHOULD be a snack.
Aim for 2-3 within the day
They should FIT IN THE PALM OF YOUR HAND
BE a PROTEIN, VEGGIE or FRUIT
EXAMPLES: apple, orange, can tuna, banana, few slices of cold meat, boiled egg, raw veggies, Greek yogurt
5.WEEKENDS (FRI-SUNDAY)
Second area where people go wrong is they are a
"MONDAY-THURSDAY Dieter"
They decide this Monday will be my week. Weight themselves on a Monday morning , exercise during the week pretty consistently and once FRIDAY comes they start eating like a teenager at a sleepover…
All the progress they made gets ruined and by Monday they step back on the scales to see they are the same weight or even heavier
MENTALITY SHIFTS TO: aw crap whats the use in trying , I just cant lose weight I've been so good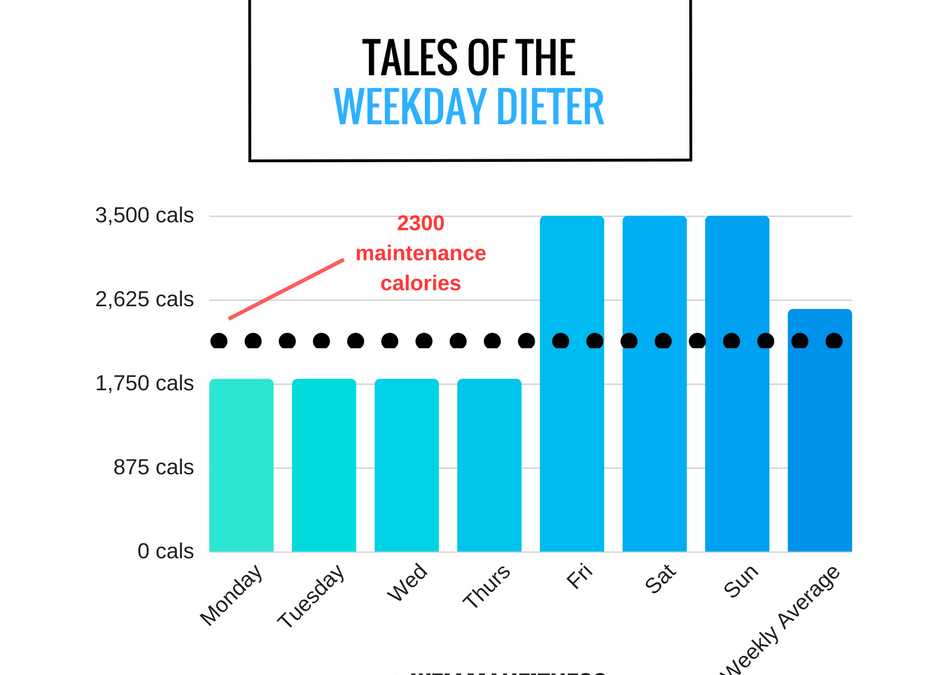 Im not saying you can never eat a little of what you really fancy but if you cant control yourself on the weekend to maybe ONE MEAL of what you really fancy then your weekends will always stunt your progress
ONE MEAL wont ruin your progress but if one meal turns into a whole day or even worse a whole weekend then progress is very hard to come by
Consistency is the key here…Dont let one slip up cause yourself to binge all weekend and tell yourself
"you will start again Monday"
KEEP FOODS THAT YOU STRUGGLE WITH OUT OF THE CUPBOARDS AND OUT OF THE HOUSE
6. SLEEP+WATER
GET MORE SLEEP AND DRINK 2 LITRES OF WATER DAILY
Probably the most non-sexy advice out there BUT the most overlooked
SLEEP:
When we look at a child as it develops, during growth periods especially they sleep constantly
Sleep is essential for recovery
Lack of sleep has a massive effect on appetite, food choices and will power
The last time you had a terrible nights sleep I bet it was much harder for you to say no the biscuits and bars and treats
Your body was so low in energy it craved anything high sugar and high convenience=usually high calories
AIM FOR 7-8HRS SLEEP PER NIGHT
TRY AND HAVE A NIGHTLY ROUTINE=GO TO BED AT ROUGHLY THE SAME TIME
TURN OFF ELECTRONICS 1 HR BEFORE BED
WATER:
2litres of water a day is a rough guide on what you should consume
WATER MAKES UP 60% of our bodies= OBVIOUSLY PRETTY IMPORTANT 
Like sleep its benefits are endless
Next time you feel hungry not long after just eating, drink 1 large glass of water wait 10-15 minutes and if the hunger passes more than likely you were just dehydrated
Dehydration presents itself as hunger, as our body looks for fluids it sends the hunger signals to the brain
AIM:
1 GLASS WATER BEFORE EACH TIME YOU EAT
2LITRES A DAY
KEEP A GLASS OR BOTTLE WITH YOU AT ALL TIMES(next to the sink if you spend time at home)
IF IN DOUBT about that feeling of HUNGRY, GRAB A GLASS first
7.OVERALL ACTIVITY LEVELS
Studies have shown that on a daily basis we should aim for a minimum of 10,000 steps
People who go to the gym regularly fail to meet this basic requirement because the rest of their day apart from that one hour in the gym is made of:
Sitting @ a desk
Driving
Watching tv
Sitting down for the majority of the day
Simple things you can implement:
BUY A FITNESS TRACKER AND TRACK YOUR STEPS
PARK YOUR CAR AS FAR AWAY FROM THE SHOP DOOR
WALK THE DOG
BRING THE KIDS TO THE PARK
TAKE THE STAIRS INSTEAD OF THE LIFT
GET UP OFF YOUR SEAT EVERY HOUR AT WORK
WALK TO THE SHOPS
GET OFF THE BUS ONE STOP EARLY
DO SOME HOUSE WORK
 Left: 1HR workout but little other activity       
Right|:Workout and loads of little daily activity habits 
8. CONSISTENCY
Lack of Consistency is the main culprit for lack of progress
Most people can eat well for a few days but most fall off track once and then spiral from there
-You will never ruin 4 days of good eating and exercise habits in 1 glass of wine but its when you let that one choice determine your whole week you do the damage
-Never Miss Twice (never let one bad food choice determine the next you make) once you slip up make sure the next thing you consume is right back on track and break the cycle
-Slip up, don't dwell on it,  don't panic put it behind you and move on
P.S-NEED HELP WITH SOME GOAL SETTING, ACCOUNTABILITY, DON'T FEEL LIKE YOU ARE MAKING PROGRESS OR JUST NEED ADVICE GET IN TOUCH ….
PPS-Help us-Help you….. that's what we are here for
KNOWLEDGE = FREEDOM – FAT LOSS without counting calorie
was last modified:
December 7th, 2017
by